Nollywood Actor, Femi Brainard in baby mama scandal
Having children outside wedlock is not what is new to Nigerian celebrities who many young ones look up to as role models. Such scenarios are usually kept as secrets from members of the press most of the times.
Only recently there were reports alleging that D'Banj and Wande Coal had children outside wedlock, which sources said was only known to a few family members and associates.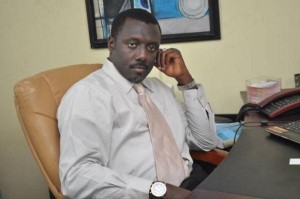 Segun Arinze was once alleged to have had a love child, who he kept away from the media. He was even alleged to have abandoned the babymama.
For delectable Nollywood actor, Femi Brainard, thinking he would have a baby outside wedlock might be difficult to believe due to the kind of positive image the actor has. He is loved for the way he delivers his characters.
On and off the scene, Femi Brainard is regarded as a very responsible actor who has managed to live without scandal. But present information reaching First Weekly may have proven that he may have only tried to keep some dirty secrets away from the public and the prying eyes of journalists.
The actor, married to a Top Radio FM presenter, is allegedly has a love child, who we gathered he abandoned, along with the mother of the child.
First Weekly reliably gathered from a source that Femi put a young lady identified as Funmi Akinyele in the family way late 2008 and the lady eventually gave birth to a bouncing baby girl in 2009. The handsome actor, according to further information revealed to us, allegedly abandoned the beautiful baby since the day she was born, as the actor reportedly didn't show up at the child's christening held in Abeokuta, Ogun State in 2009 and afterwards.
It was squealed to us that the relationship between Femi and the 30-year-old lady started in 2007 after they both met on a movie set, Korede Ke', sometime in 2006. Soon, they both became live-in-lovers at Femi's Mende, Maryland, Lagos-home.
First Weekly learnt that Funmi became pregnant for Femi in September 2008 and gave birth to the actor's alleged love child, Tolani, in June 2009, in Abeokuta, Ogun State, where the alleged babymama had relocated to in November 2008.
Our source further hinted that Femi failed to show up during the child's christening, and that his parents were initially not aware of the whole scenario until Funmi travelled to Lagos to meet them when her pregnancy clocked seven months.
Femi had allegedly told Funmi that his parents were aware of the pregnancy only for Funmi to find out that it was all lies as Femi's parents were surprised to discover that she was pregnant for their son, when they saw her. However, Femi later reportedly confirmed to his dad that he is responsible for Funmi's pregnancy.
When contacted by First Weekly to confirm the story, Femi didn't deny it, but laughed and said, "it is an old story."
However, minutes after dropping the call, he sent us a text message to appreciate our efforts to reach him before publishing the story, but reiterated his earlier 'it is an old story' claim.
culled from First Weekly Magazine