Genevieve Nnaji misses 'half of a yellow sun" movie premier in London, battles Flu
Following her encounter with Flu (due to the weather in London), Movie star, Genevieve Nnaji, was unable to register her presence at the premier of the well anticipated "half of a yellow sun movie"  in the London Film Festival premiere, Odeon West End, last weekend.
The director of the movie, Biyi Bandele, disclosed this on his Facebook page hours ago to express how much they missed the movie star and mother of one, Genny at the premiere.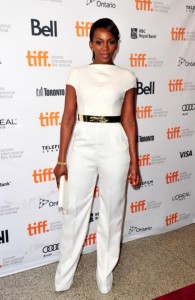 "Just got back from the BFI London Film Festival European premiere of Half of a Yellow Sun at the Odeon West End. Humbled and moved by the rapturous reception the audience gave it. It was also great to see the hardest working actor on our hemisphere, Chiwetel Ejiofor, and the great John Boyega, and the amazing Babou Ceesay, and the one and only Onyeka Onwenu. And Chimamanda Ngozi Adichie, of course. Without whom… We missed Thandie, who is on location in Vancouver. We missed Genevieve, who flew in for the premiere and promptly went down with a flu (mind yourself o, London weather). What a night though. What a night." he posted
Genevieve played "Ms Adebayo" in the highly anticipated movie!