Wizkid calls fan 'poor' for correcting his bad English
The other day, he threw a bottle at a guy in a bar for "not behaving properly", now he's lashed out his fan on twitter for attempting to correct his typographical error.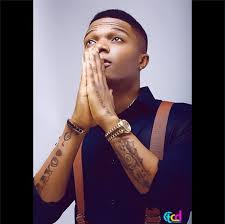 Wizkid on Saturday, showed the other side of him by lashing out a fan whom he addressed as a "broke person" – the music star tweeted "broke ass people always think they have an opinion" after being corrected by a fan on twitter.
The incident has now resulted into a pile of insults on the singer who some described as 'proud and spoil brat' even though some of his ardent fans solidly stood behind their star.
Wizkid had posted a photograph on his Instagram page and noted that he was supposed to perform at a wedding but had 'an hangover' instead of 'a hangover'.

A fan called his attention to the error, telling him to go back to school.
He tweeted"naxxo u gbagaun for music sef #20man smh tho… c d reason y u shld get back 2 sch. lol."
A furious Wizkid then replied, "broke people always think they have an opinion."
Some have wondered why Wizkid would call someone poor or broke especially when he got rich through the hard-earned money of some of these fans he's calling 'broke'.