I'm sad when I read blog comments about myself – Halima Abubakar
 Controversial Actress, Halima Abubakar has disclosed that she gets upset when she reads blog comments about her.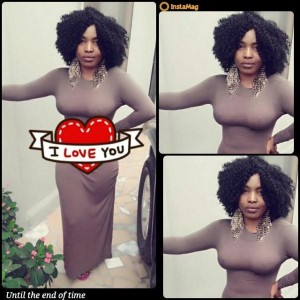 In a new interview with the Netng, Halima said "That's like physical bullying. Online, they are invisible. I believe if you have a problem with me, you should approach me. But if you go online and comment as anonymous or use a strange name, you are still bringing yourself down. Yes, you would make me feel sad, but the damage will not be permanent, but temporary until I am strong enough not to read those comments again.
"I am going to say it that I am not one of those actresses that say they don't read blogs. I do. I have been reading blogs for the past five years or so, but I have never commented. Sometimes I am pushed to insult everybody there and comment under anonymous. But then I tell myself, well, they would always remain anonymous while I stay relevant. And so, I bear most of the insults and try not to be bothered about them. It was not easy.
I was depressed for a long time because of things like that. I just felt that people didn't like me. I didn't understand how people could still hate me even when I know I am one of the nicest people in Nollywood. I am not disrespecting anybody, I am just saying that even if someone has hurt me several times, I will still be nice to the person.
People just go ahead and bash me for no reasons. They don't even know me and they are saying this and that. Before, I will cry and cry and get depressed. But now, I don't even bother myself anymore. They don't know what I'm going through and they don't know my story." She disclosed.