Remembering Dagrin: 3 years after
Today,  April 22, 2013 marks three whole years since Olaitan Oladapo Olaonipekun better known as Dagrin passed away.
How he died
:  Dagrin died at 6:00PM on Thursday, April 22 – exactly eight days after he was involved in a ghastly accident in front of Alakara Police station, off Agege motor road, Mushin, Lagos.
The late rapper's car, a Nissan Maxima 2008 model ran into a parked lorry in front of Alakara Police station, Mushin.  He was initially admitted at Tai Solarin Hospital, Mushin before he was transferred to the Lagos University Teaching Hospital (LUTH) Idi Araba where Doctors made serious efforts to save his life.
Doctors at the Lagos State Teaching Hospital LUTH said he survived nine attacks before he finally gave up during the 10th attack. The nation was thrown into mourning; those who didn't know the rapper Dagrin were forced to.
His early years:
He started rapping about the age of 14. Dagrin would be at every Hip-Hop show in Lagos, trying to get a three-minute spot on stage'.
Dagrin struggled for years, hopping from one studio to the other, in a quest to record a music album. It took a few years for the struggling act that had been desperately looking for financial support to seal a record deal. In 2006, he released his debut 'Still on the Matter' under LEO Entertainment which was mildly received…
His relationship with his Parents: Dagrin allegedly had a strained relationship with his father, Comrade Olaniyi Abolaji Olanipekun but he was very close with his mother Mrs Olanipekun.
His love life:  Before his death, Dagrin had also broken ties with his girlfriend Chichi. The couple had dated for seven years but Chichi kept pressuring for more than a mere commitment, friends of the couple say. 'Dagrin at that time wasn't ready for marriage so he let her go', online reports disclosed.
3years after his death:
Three years after, things seem to have changed, Dagrin's death suddenly inspired a whole lot of rappers to hit the studio spitting in Yoruba language. Now we have the likes of Olamide, BaseOne, Tipsy, Jyhbo, Seriki obviously inspired by the general himself Barack O'grin.
The late Dagrin is being remembered on the various social media platforms today especially on twitter and Instagram.
MI and Iceprince tweeted this photo of them below with the caption "you will forever be in our heart"
l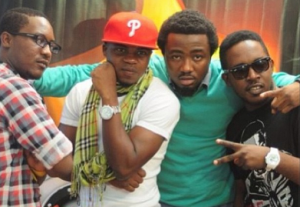 While Tonto Dikeh went to his grave yard to pay some respect, see photo below:
May his soul rest in peace!